Ventura County Hang Gliding is the longest running and
best equipped hang gliding school/dealership in Ventura 
County, California - home of year round cross-country soaring.
Let's face it, we're actually the only hang gliding school in
the county, so we can say whatever we want about ourselves.

All BS aside, VC Hang Gliding is a small school run by Fred Vachss
out of his home in Thousand Oaks.  Fred is a USHGA certified
Advanced Instructor, Examiner and Master rated hang glider pilot
who's been flying for 15 years and instructing for the last 10.
VCHG offers instruction from the Beginner level up through
Advanced mountain XC training.

Since we're a small school our classes are also small and one-on-one
instruction is typical.  Basic instruction includes ground school,
simulator practice and flying on our 0 - 150 foot bunny hill and 500
foot Novice hill.  Typical students complete our
program through the Novice level (hang 2) USHGA rating in 12 - 15 lesson days.
All necessary equipment is provided during instruction.  When students
are ready to purchase their own gear we offer a range of new and used
equipment, in particular:






We offer discount pricing on all equipment and free delivery 
in Southern California (though we may want to come out and 
fly with you when we deliver your gear).



We are located at:

562 Fargo St.
Thousand Oaks, CA  91360

and can be reached at:  (805) 498-6980

or through the Internet at:  
frederick.vachss@boeing.com




 Mid-1998 Update: Fred's other job has been taking a lot of time lately,
so for the next few months Ventura County Hang Gliding will not be
taking any new students. In the meantime he's referring all students to
Fly Away Hang Gliding
(805) 403-8487 run by Tammy Burcar in Santa Barbara.  
Tammy is an old friend of Fred's and a great
instructor.



For more general information about hang gliding, look at our list of 
Frequently Asked Questions.
To find out more about a particular model of hang glider, check out the Hang Glider Database.

---
Here are some photos of a good training day with Fred and VCHG student (and now Novice rated pilot) Dan Vacca at our Round Mountain Novice level training site.
Click on the snapshot to get the full size picture.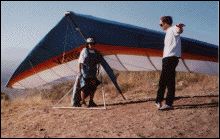 Going over the flight plan
---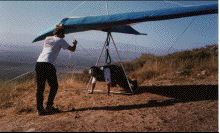 The all important hang check
---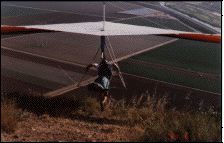 A good strong launch
---

and a clean flight into the air 500 feet over Camarillo, CA
---
Return to Fred's Home Page or the Topa Flyers Home Page